________________________________________________
"The unraveling of the planet's fundamental systems is no game—but solving this crisis into which we've stumbled is a great adventure, as EarthQuest captures beautifully.  It's a step into the real world."
 – Bill McKibben, Author, Activist and Founder of 350.org
________________________________________________

EarthQuest is an augmented reality ecogame for engaging teams of youth and young adults in game-based learning about climate change, their local environment and civics.  EarthQuest uses hybrid table-top scenario and simulation methods with storytelling, group role-playing, and a mobile app for social learning and collaborative problem-solving.  Youth are ushered into a realistic and plausible near-future world to address real-world issues from legacy environmental pollution, climate-induced events, and the transition to sustainability and resilience.  Players use mobile devices to go online for peer-to-peer sharing, accessing game media and digital maps, looking up information and crowdsourcing new media content. Young people are rewarded in the game for doing real-life outdoor environmental service, adopting sustainability behaviors at home and generating creative new content.  EarthQuest is adaptable for various ages, ability levels, challenge levels, and time limits. The game can be used by youth at home, teachers in class, youth workers after school, and professors on campus. EarthQuest is educational, entertaining, engaging, transformative, and wildly fun.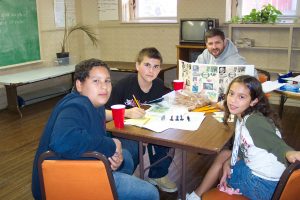 EarthQuest creatively explores the human dimensions and environmental science dimensions of various climate change future scenarios using effective story-based role-playing techniques.  In EarthQuest, players enter a fantastic and exciting world of intrigue, crisis and adventure, set in actual watershed ecoregions around the U.S.  EarthQuest scenarios are set in a challenging near-future world impacted by climate change, environmental degradation, resource conflicts, political clashes, and food, water and energy insecurity. In crisis, the politically and culturally polarized U.S. has temporarily devolved federal and state government into an alliance of local ecoregional democracies in the eastern and western coastal states.  These emerging ecoregional governments are focused on transitioning to sustainability right-sizing local economies, restoring healthy ecosystems, maximizing participatory democracy, and becoming resilient in the face of unfolding climate disruption.  Heartland states, on the other hand, turned most governance over to deregulated corporations, privatized public resources, use market-based decision-making, and focus on rapid economic growth via extraction of remaining fossil fuel supplies and other natural resources.  Players work together as a team of "Vanguardians," going on missions to help communities solve environmental problems and mysteries, and transition to sustainability by adopting best practices. These problems could be food, water and energy shortages, natural disasters from sea level rise and flooding, environmental contamination, loss of wildlife habitat and industrial pollution.  Vanguardian missions require players to experience, explore, investigate, problem solve, and innovate using their mobile app to access the latest science and social science from web-based fact sheets, digital maps, graphics, and flash videos from EPA, NOAA, USDA, USGS, USFWS, and other environmental and natural resources agencies.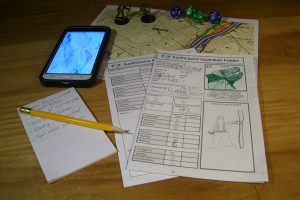 Players also use the EarthQuest App to track their Vanguardians' progress, and access the EarthQuest Player Network, where they can share best practices, innovations, and other learning with their peers, and collaborate to generate new game media and other content.  Unlike the very limited choices and narrow topics found in many educational electronic games and board games, EarthQuest is completely dynamic and interactive, includes a vast array of interdisciplinary topics, and fosters creative choices, novelty and innovation limited only by the players' imaginations.  Coming up with creative solutions to environmental and sustainability problems in EarthQuest encourages young people to use systems thinking to think critically about their community's and their own personal real life choices. Young people can then make corresponding behavior changes in their own lives consistent with more sustainable lifestyles and communities explored in EarthQuest.  EarthQuest helps youth develop the interdisciplinary thinking skills, leadership skills, civic skills, and sustainability behaviors they will need in the 21st century—the Age of the Anthropocene.
The Game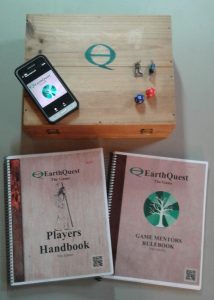 The EarthQuest game includes a Game Mentors Rulebook, the companion Players Handbook, a variety of pre-designed adventures, worksheets, and an optional mobile app for enhanced simulation, multimedia and social networking experiences. Young people organize themselves into informal or formal game clubs to play EarthQuest.  They meet face-to-face as a group every week for 2-3 hours with their "Game Mentor," a youth peer leader or adult who facilitates the game.  Each player takes on the role of a Vanguardian agent─who is their own future great-great-grandchild─in a near-future world of high technology, low technology and "natural tech" (biomimicry) harnessed to help watershed communities increase resilience, adapt to climate change, and transition to sustainable living.  Sitting around a table, players use a large watershed map, game rulebooks, dice, miniature figures and a Vanguardian Folder, which is used to write down clues and take notes.  As an option, they may also use mobile devices and the EarthQuest App to access online multi-media and maps.  Players use their Vanguardian personas to enter into creative and interactive adventure stories to explore various approaches to understanding and addressing sustainability and resilience issues.  Once players meet and talk with fictional characters in the game in order to understand the underlying cause and effects of environmental problems, players then engage in creative problem solving using best practices and best available technologies.   Many of these best practices are social practices, which require Vanguardians to model resilience, sustainability, and environmentally friendly behaviors, and help persuade communities in the game to adopt them, too, to foster positive social change.  Players use the EarthQuest App to access the online EarthQuest Player Network to keep track of their Vanguardians' progress, collaborate with other players to generate new game media and other content, and engage in peer-to-peer learning.
There are several "cool factors" built into EarthQuest to make it especially attractive and appealing to youth and keep them engaged:
Each player's Vanguardian persona is a highly trained agent with special skills, futuristic high tech gadgets, and herbal medicines. Vanguardians promote environmental sustainability, peace and nonviolence, health and wellness, and human dignity and social justice.  A Vanguardian is like a combination of a forest ranger, Harriet Tubman, Mahatma Gandhi, Peace Corps volunteer and EPA field agent all rolled into one. Players get to play heroes who are their own great-great-grandchildren!
EarthQuest is set in a fascinating near-future world with high tech gadgets and use of science and technology solutions for adaptation to climate change, in addition to using biomimicry and low tech/natural solutions. Players solve environmental mysteries (effects of environmental decisions made in the early 21st century) with ecological clues.
EarthQuest is a crowdsourced game, where players themselves participate in the ongoing development, revisions, and expansion of the game.
Vanguardians commit to lifelong learning and personal improvement, so they are constantly increasing their skills and abilities in the game. This allows a player's Vanguardian to increase levels, skills and resources, which increase chances of success in the game.
Vanguardians earn a sustainable living score, and wear a green "Sustainability Badge" that a player can design. As the Vanguardian learns and adopts more sustainability practices, his or her sustainability score increases and the Sustainability Badge gets greener. (Players, of course, can do the same in real life, and wear their Vanguardian's Sustainability Badge as a public statement.)  The EarthQuest App keeps track of a Vanguardian's sustainability score.
While the game is played face to face in small teams, players may enhance their play by using their mobile devices and the EarthQuest app to store and share Vanguardian information, access multi-media and maps, explore educational websites for environmental research and learning, and network with other EarthQuest players throughout the U.S.
Players may join the EarthQuest Player Network with additional opportunities for youth leadership. Using peer-to-peer and crowdsourcing approaches, players can register clubs; suggest edits to the game; develop new game scenarios; submit their own multi-media creations; organize regional volunteer service opportunities; and help plan regional EarthQuest player conventions.
EarthQuest involves conflict, but promotes nonviolence, cooperation, peacemaking and use of conflict resolution skills.
EarthQuest is also a new kind of augmented reality game, blending the simulated future game world with real life today: players who engage in real life environmental service projects in their community and adopt sustainability practices at home earn points for their Vanguardian descendants in the game.
Vanguardians use a virtual reality simulator for training and for trying out possible policy solutions to problems beforehand. The EQSim allows Vanguardians (and players) to explore simulations that are realistic, surreal, alternate history, or fantasy and science fiction.
Youth in the future─not adults─are leading EarthQuest's social change and transition movement to resilient and sustainable communities. Youth are the leaders and heroes!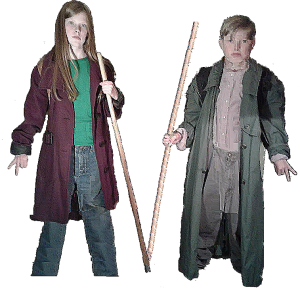 EarthQuest makes learning interesting and relevant, and allows players to incorporate almost anything they know or have learned from school, web or life into game play.
An EarthQuest Adventure might begin like this…
Read more about the Post-Historical World of EarthQuest…
Read more about the Foundations and Goals of EarthQuest…
Download the EarthQuest Executive Summary
Download the Infographic "What is EarthQuest?"
Download the Infographic "How to Play EarthQuest"
Interested in volunteering or interning for the EarthQuest project?  See the Position Description.