Foundations and Goals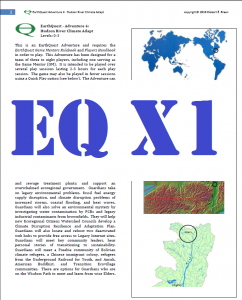 EarthQuest's role-play scenario and simulation system was developed based on contemporary research in social science, behavioral science and educational pedagogy. EarthQuest was also developed using the national environmental education standards of the North American Association for Environmental Education (NAAEE) and state social studies, science and technology education standards.  According to the World Economic Forum's Future of Jobs Report, the top ten skills that will be needed in 2020 will be:
1. Complex problem solving;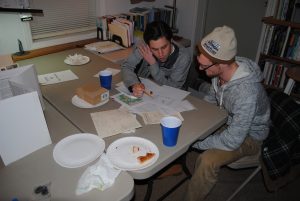 2. Critical thinking;
3. Creativity;
4. People management;
5. Coordinating with others;
6. Emotional intelligence;
7. Judgment and decision making;
8. Service orientation;
9. Negotiation;  and
10. Cognitive flexibility.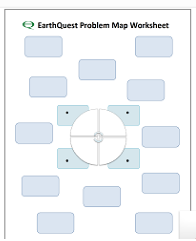 EarthQuest helps youth develop nearly all of these skills.  EarthQuest has been under development since 2001 with funding from a series of small mini-grants. It has been successfully play-tested on several occasions with youth and young adults.  Feedback from play tests led to an important series of revisions of EarthQuest in 2014-2016.  It is intended that EarthQuest clubs will be established in schools and colleges, at libraries, in science museums, in nature centers, at youth centers and in homes nationwide.  Regional EarthQuest team competition events and conventions will be hosted annually. The current strategy is to secure funding for full development of market-ready game materials, national dissemination of EarthQuest and engagement of a critical mass of youth and youth leaders in a nationwide EarthQuest campaign.  We intend to explore peer-to-peer processes, user-generated content, and alternative business models, including worker-owner cooperatives and benefit corporations, that engage youth and young adults in aspects of the EarthQuest game enterprise.
EarthQuest has been designed with the following goals: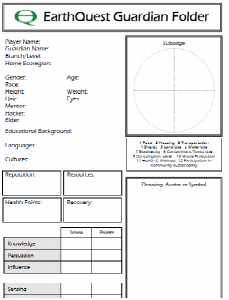 Increase youth awareness and knowledge about their local and regional environmental issues;
Promote youth interest, literacy and concern for climate change resilience, socio-ecological sustainability, and civics;
Foster in youth self-directed interdisciplinary learning integrating science, math, technology, economics, politics and government, humanities and culture studies;
Develop in youth an understanding of the complexity of real world issues and systems, and present various perspectives, dimensions and approaches to understanding and addressing those issues;
Provide youth with higher order thinking skills, including critical thinking, systems thinking, and creative problem solving skills needed to understand a variety of interconnected environmental and social issues, and begin solving the "wicked problems" handed down to this next generation;
Develop in youth nonviolent cooperation skills, conflict resolution skills, effective communication skills and other leadership skills;
 Develop youth environmental stewardship via involvement in hands-on environmental service projects; and
Help youth formulate critically-reflected sustainability values, norms and behaviors.
Return to EarthQuest